Cafe Menu Covers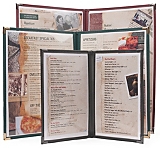 Glossy or Matte Finish

The #1 Selling Menu Cover!

The cafe style menu cover is the most widely used menu cover in the world. It is the most versatile because you can easily change out the paper menus and clean the vinyl very quickly. The cafe style menu cover comes in a variety of styles and sizes to fit your restaurant's needs. Additional options can also be added such as Chip Board or KNG's Extra Pockets to increase the stiffness of the menu.
Compare Our Menu Cover Quality




Our cafe style menu covers are made of the highest quality materials and come with 90 day risk free guarantee.




Heavyweight Corners
Our corners have 75% more clamping space than cheaper alternatives. This keeps your corners on your menu covers where they belong.




Durable Backing
Our scrim backing lasts 3 times longer than menu covers made with unsupported backing.





Flat Vinyl
Our graphics-grade vinyl remains flat unlike cheaper film that leaves menu covers wavy.





Stronger Thread
Our menu covers are made with bonded thread that is 100 times stronger than regular thread.

Professional Edges Our turned edge binding provides a professional finish that will hold up through years of use.