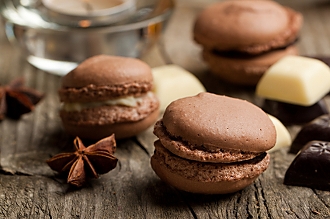 Remember, about ten years ago, when Sex and the City made Magnolia Bakery famous for its cupcakes? Shortly thereafter, cupcake-centric bakeries began cropping up all over the country. Cupcakes are a nearly perfect food: what other baked-good can compete with a snack-sized sugar-bomb that acts like a blank canvas for endless varieties of flavors and components? Until ten years ago, though, cupcakes were just for kids. The writers of Sex and the City didn't discover cupcakes, they just made it acceptable (and sexy) for adults to eat them, too! Well, it's 2014: cupcakes have had their day in the sun, and it's about time to usher in a new favorite. Pastry chefs and bakers have been working overtime to come up with the next big thing. Let's have a look at the contenders:
1. Doughnuts: Like cupcakes, doughnuts are nothing new. They've been around for hundreds of years, but they are currently experiencing a renaissance. Forget the lackluster, greasy doughnuts of years past. Today's specialty doughnut shops are churning out some of the most imaginative and inspired products on the market.
2. Pie: Once reserved for Thanksgiving and Christmas, pie is also showing promise of resurgence. More and more bakers are choosing to open pie shops, which sounds quaint, but is actually incredibly cool. These folks are modernizing their recipes, using local, seasonal ingredients, and making pies that would knock your grandma off her rocker.
3. Macarons: Not to be confused with the coconut-laden American "macaroon," French macarons are cookies made from ganache, buttercream, or preserves, sandwiched between two meringue-like shells. They require an inordinate degree of pastry prowess and, when made correctly, are positively stunning. Like cupcakes, macarons serve as a perfect canvas for impossible numbers of flavor combinations and profiles.
4. Popsicles: Like cupcakes, popsicles were once reserved for kids only. Recently, though, artisanal pop-makers have begun flooding the culinary scene. While there will always be a place in our hearts for rocket pops and pushups, these new popsicles occupy an entirely different category. With experimental flavors designed to thrill even the most adventurous of palates, popsicles really could be the next big thing.
5. Cakepops: Even Starbucks has rolled out a line of cakepops: tiny, two-bite-sized spheres of cake and frosting coated in chocolate, suggesting that this trend might have a bit of staying power. And let's face it: who doesn't like eating just about anything on a stick?
6. Cronuts: When Dominique Ansel Bakery decided to fry its croissant dough, merging croissants with doughnuts into one irresistibly gut-busting treat, the internet exploded. Rumor has it that folks are still lining up outside at dawn to buy these monsters before they sell out. The idea is genius, and bakeries everywhere are beginning to put their own versions out for sale.
As always, we'd love to her your thoughts. Which sweet will reign supreme as the cupcake of 2014? Please feel free to leave a comment below.