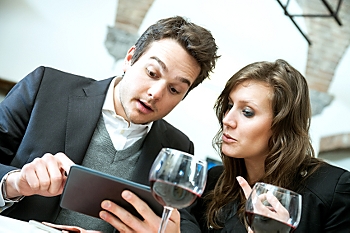 There was a time when restaurants were reviewed by professional critics, and professional critics only. These were vetted experts with degrees from esteemed culinary institutions and writing chops to boot. Now, with the influx of sites like Yelp and Urban Spoon, every single guest who enters your establishment is a potential critic. The ubiquity of smart phones has complicated things even further. Guests frequently update their reviews tableside, which allows you to literally watch your popularity rise and plummet in real-time, based on what is happening in your dining room from moment to moment.
You might be tempted to ignore these reviews altogether. After all, who the heck is Barbara from Santa Rosa, and what does she know about poutine? And yes, there is something to be said for the silliness of sites like Yelp. The site claims to filter its reviews, but if you've ever read any of them, you know that some pretty unintelligent and often toxic assessments slip through the cracks. And yet, this is one of the first places guests turn to when choosing a restaurant. According to a study published by a professor at Harvard Business School, a one star increase on Yelp leads to a 5 to 9% increase in revenue. Like it or not, your online reviews matter.
As frustrating as it can be to think that the success and popularity of your restaurant rests on the shoulders of a sea of anonymous, axe-grinding neophytes on social media sites, there are some very real advantages to having this kind of information at your fingertips. Here are 3 ways to use social media reviews to your advantage:
1. Immediate feedback: Social media reviews allow you to instantly see what people think about every aspect of your operation: from ambiance, to food and service. You no longer have to wait around, biting your nails, for a food critic to write up a proper article. From the minute you open your doors, your guests will be telling the world (wide web) exactly what they think about the way you do things.
2. Motivated Staff: When your staff understands that every single guest is a potential critic, they will begin to treat each and every table as such. What do you do when you know a critic is in your dining room? You pull out all the stops and make sure that every single aspect of his or her experience is flawless. There is never (and there never should have been) any excuse to put out food or deliver service that is sub-par. That guest at table 9 is texting live updates to Urban Spoon.
3. Opportunity to fix problems: When guests write negative reviews online, you are often able to pinpoint the actual time and date upon which errors occurred. This allows you to discuss specific events that happened on specific evenings with your staff, cutting off problems at the head. Without social media, you might never have known that your best server, Sheila, has a penchant for snarking off at guests who ask for their sauce on the side.
While it is frustrating to be constantly evaluated, keep in mind that (almost) every critique is a valuable opportunity for growth. By embracing the merits of social media review sites, you can take back the fate of your restaurant from the hands of the masses and become the master of your restaurant's destiny. By staying on top of your online reviews, you encourage your staff to continually grow, adapt, and be their best. Immediate feedback is a gift, even if it comes in the form of a misspelled and poorly-worded assault. As always, we'd love to hear your thoughts. Please feel free to leave a comment below.