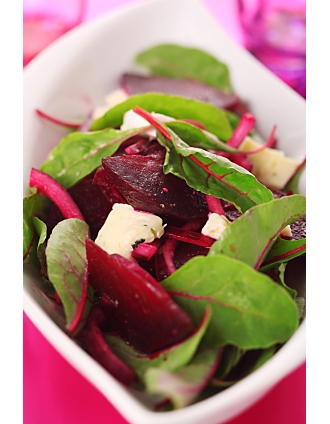 It seems like Fall slipped right through our fingers, and those gorgeous autumn colors are long gone. Trees look barren, moody and a little ominous. If you've visited a farmer's market recently, you can probably agree that winter isn't the most thrilling season for local fruits and vegetables. The cooler months can seem like a produce wasteland, but with a bit of research and know-how, winter has the potential to be your restaurant's most exciting season of all. Think of this as a sort of winter produce primer. Here, we've compiled a list of some of the season's most vibrant, exciting, and often overlooked fruits and vegetables to help you think outside the box while planning your winter menu.
Beets: Red beets are the most common, and are certainly delicious, but consider exploring the many different varietals. From purple, to yellow, to striped, each species of beet carries its own distinctive flavor profile. Beets are a wonderful way to add splashes of vibrant color, interest, and bold flavor to your plates.
Brussels Sprouts: Once the bane of every childhood existence, Brussels sprouts have made a comeback over the past several years. These bright green veggies lend themselves well to flavors like bacon, caramelized onion, and pepper. They don't necessarily need to be roasted to be delicious, either. When shredded and eaten raw, Brussels sprouts make a fantastic salad.
Chestnuts: The flavor and smell of roasted chestnuts evoke feelings of warmth, which everyone can appreciate this time of year. This winter "nut" is more versatile than you might think, and plays well with both savory and sweet preparations. These tough little guys can be roasted, ground, boiled or pureed to release their complex flavor, adding depth and warmth to any winter menu.
Citrus: Wintertime is when citrus fruits really reach their prime. Move beyond the navel orange, and explore fruits like satsumas, blood oranges, kumquats, clementines, and grapefruit. These varieties have all the depth and complexity of flavor needed to enhance dishes. Bright citrus fruits also go along way in lightening cold-weather dishes that tend to be a bit heavy.
Kale: You will win the love and loyalty of your health-conscious guests when you include Kale on your winter menus. But kale has become more than just a superfood. Chefs across the country have found ingenious ways to incorporate this robust leafy green. Better yet, as the weather becomes cooler, kale becomes sweeter. Because it is so sturdy, kale lends itself well to cooking methods such as braising, roasting and frying.
Quince: Pastry chefs rejoice when quince season rolls around. Quinces are bright, acidic, and come equipped with lots of pectin, making it perfect for jams, jellies, and pastes. When heated, the fruit takes on a stunning pink color and adds a little sunshine to wintry plates.
Salsify: Also known as "oyster plant," for its oyster-like flavor, salsify is definitely one of the more obscure vegetables to make the market scene during the winter months. These dark-colored root vegetables have been popular in Europe for hundreds of years and are finally making a splash in American kitchens. Salsify is an unexpected but welcome addition to soups, stews, and purees.
As always, we'd love to hear your thoughts. What are your favorite cold-weather fruits and vegetables? How are you keeping your winter menus fresh and exciting in what many consider to be a produce blight? Please feel free to leave a comment below.