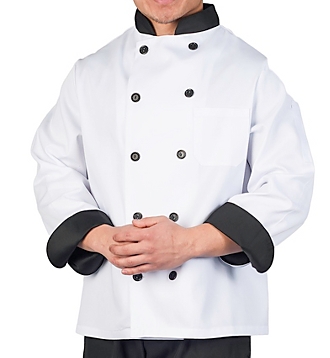 Working as a chef can be a fantastic and enjoyable way to earn a living. With everyday comes a new challenge and it is always a hectic yet exhilarating job. To be a successful chef you will need to have all the right equipment and of course the correct uniform so that you look the part for your new position. As there are so many different chefs across the country there is a demand for a wide and eclectic variety of chef coats and chef jackets. Every chef has a different idea of what the perfect clothing is to wear on a daily basis and of course certain employers demand different outfits if you want to work in their kitchen. One thing that is absolutely paramount when buying any type of chef coats is to ensure that the clothing is comfortable and breathable. You will be working in the coat or jacket for many hours and often in a very hot and sticky environment, so it is very important to have clothing that you are going to be comfortable in throughout your entire shift.
The most important factor to bear in mind when buying chef jackets and chef coats is the material that they are made out of. It is the material that will determine whether the items are going to be comfortable for you to wear every day. There are many different options to choose from but undoubtedly one of the best is spun-poly. There are 2 different types of spun-poly that are used to make chefs clothing and it is important to make sure that you attain clothing that uses the better of the 2 methods. The better of the 2 methods uses a 2 to 1 twisting method that creates an extremely strong thread that is absolutely perfect for chefs clothing.
Many people think that poly-cotton is a better product to use when making chef coats but actually spun-poly has many advantages over its cotton counterpart. It has actually been scientifically proven that products that have been made from spun-poly will generally last around twice as long as items that have been crafted from poly-cotton.
One of the most annoying things as a chef is constantly ironing your clothing on a daily basis. Spun-poly comes out of the washing machine or the drier in a perfect condition. It does not crease or crumple in the way that poly-cotton does. This means that you need not worry about turning up for work looking dishevelled ever again.
Obviously, as a chef you will be washing your clothing every single day as you will invariably get stains on your clothes. The problem with poly-cotton is that it can often shrink after numerous washes and over time the colours will fade from the material. If you have clothing that is made from spun-poly, neither of these problems will be an issue. The properties that spun-poly has ensure that it will never shrink or lose its colour no matter how many times you wash it.
The last and possibly the most important point about spun-poly chef jackets and chef coats is that they fit better, feel lighter and feel much more comfortable than cotton.